12 février 2011
6
12
/

02
/

février
/

2011
09:54
Sept-2009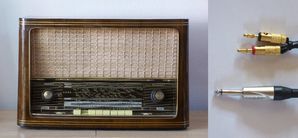 My parents had an old radio in 1958. A "SABA Freudenstadt 8 ". They did not know what to do with it. FM was not working, so they no longer saw the need to keep it. However, this type of radio has tubes and an input for amplifying a turntable.
I grabbed the radio, and make appropriate connections to switch from mono Jack connector to old radio input.
After some bass and treble adjustments, I get excellent sound quality, great round and a nice warm.
the pleasure of playing the theremin is still growing. What happiness!
the only disadvantage of this solution is that it's not easily transportable, and especially not outside...