11 février 2011
5
11
/

02
/

février
/

2011
10:25
Aug-2009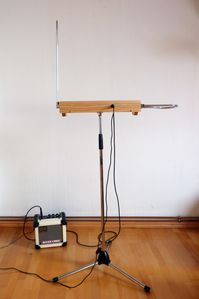 So theremin is OK (I mean everything is functional). But How does it sound when you have no real amp for this ?
The only amp I have at this time is a Roland Micro Cube....mmmhh well, how will I describe what comes out this tiny thing ? It's simply like a Vuvuzela ! But at least it makes sound.
there's still an advantage : the portability. it's light and autonomous. At this point, it came the idea to put the theremin"out of the inside", to make sort of anywhere anytime stages. But first I have to practice, then to find the proper equipment for this.