10 février 2011
4
10
/

02
/

février
/

2011
22:26
August 2009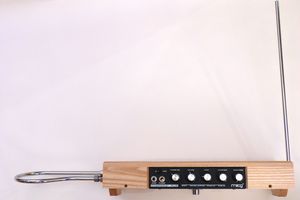 Finally, I have my theremin, brand new. Put it on the table, read the owner's maual, plug the instrument in...
And like every (I assume !) first time player, make some weard sounds with it, till I thought that was enough for funny tries. Let's do something more interresting.
First attempt was an excerpt of Chronologie from Jean-Michel Jarre...well that was an attempt ! Then the Ave Maria from Schubert. (Ok an attempt too !) BUT at least we could recognize an overoal melody.
Since this time, the theremin became a part of my life.